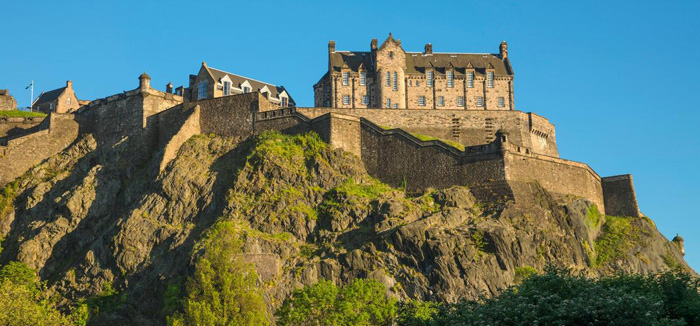 Do you run a B&B or Guest House in Scotland?
- or let rooms in your home to paying guests?
if so, we are now here to help, support, inform and represent YOU...
The
Scottish Bed & Breakfast Association
(SBBA) is the trade association for B&B and guest house owners in Scotland. It is affiliated with the UK
Bed & Breakfast Association
, which celebrates its 10th anniversary this year. The SBBA was officially launched on 16th November 2016 by Scottish Tourism Minister Fiona Hyslop MSP at Guest Scotland in Edinburgh (see below).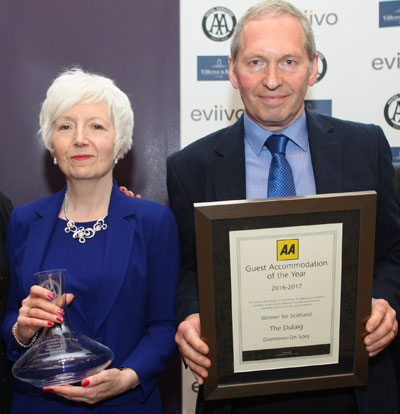 Left: Carol & Gordon Bulloch of five star Gold B&B
The Dulaig
in Grantown-on-Spey, with the AA Award for
Guest Accommodation of the Year for Scotland 2016
.
Carol and Gordon are longstanding members of the B&B Association in Scotland, and officially become the first members of the Scottish Bed & Breakfast Association at its launch on 16th November (see below), where Carol & Gordon revealed the secrets of their success in the conference sessions at 'Guest Scotland' in Edinburgh.
To join the
Scottish Bed & Breakfast Association
now for sixty pounds for 12 months by credit or debit card, click the 'Join Now' button below:

Nicola Sturgeon, First Minister, writes to the SBBA
The First Minister, Nicola Sturgeon, wrote to the Scottish B&B Association in 2017 about what the Scottish Government is doing about tourism.
Her letter can be read here.

The
Scottish Bed & Breakfast Association
is a member of the
Scottish Tourism Alliance
, the umbrella organisation representing all of Scotland's tourism trade associations.
Hospitality directly employs 256,000 people in Scotland (an increase of 15% since 2010), supports a further 153,000 jobs in the supply chain and contributes 4.6 billion pounds in "Gross Value Added" to Scotland's economy.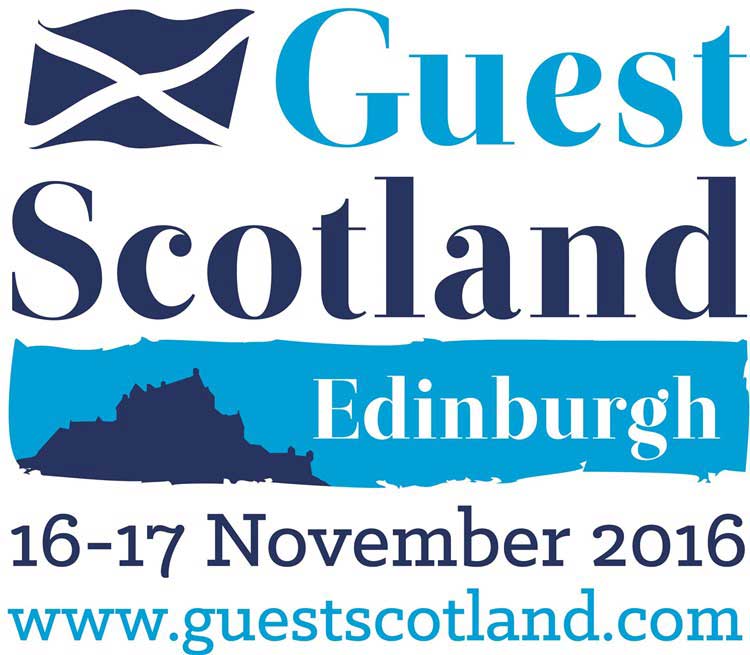 &nbsp &nbsp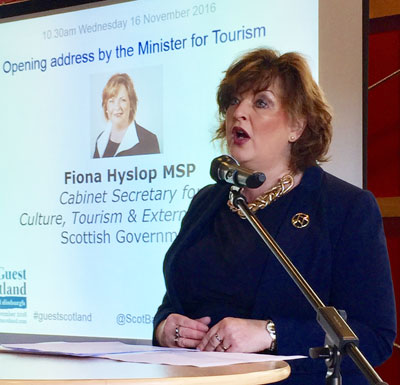 The Tourism Minister, Cabinet Secretary
Fiona Hyslop MSP
(above right), formally announced the launch of the Scottish Bed & Breakfast Association at
Guest Scotland
on 16 November 2016 at the International Climbing Arena, Edinburgh. The Cabinet Secretary said:
"I am pleased to be here today to open Scotland's first ever Guest Scotland Exhibition and Conference - a special event in what is certainly a pretty unique setting.

"I am also delighted to be highlighting what is, itself, a unique - but vital - part of our tourism and hospitality industry: the B&B and guesthouse sector.

"In 2014, figures show that domestic visitors spent nearly 3 million bed nights in B&Bs, right across Scotland

"Today gives all parts of this vibrant sector a chance to come together - our B&Bs and guest houses, pubs with rooms and all of those other elements that make up a successful and authentic tourism experience.

"And not forgetting those behind the scenes in our industry - the suppliers and those providing the valuable background services, without which our industry couldn't function.

"Like no other, the sector provides important geographic spread, allowing visitors to see more of our country and, in doing so, supporting our rural economies.

"I know from my own travels around Scotland that our new generation of B&Bs is everything that tourists are now looking for: individual, high quality and with one-to-one personal service.

"And that is reflected on the leading user review website, where British B&Bs are rated more highly than hotels for guest satisfaction.

"Customer satisfaction is the cornerstone that underpins a successful industry and tourism is already one of the Scottish Government's 7 key economic sectors.

"Not only is it vital to our economy but it also showcases all that Scotland has to offer the world.

"And we have so much to offer: our stunning landscapes, heritage, our wide range of activities, festivals and events and our food and drink.

"And all of this is supported by the most important element - our people - skilled, knowledgeable and passionate people - people like all of you.

"In fact, in 2015, the Scottish tourism industry employed more than 217,000 such people. That's over 8.5% of all Scottish jobs.

"217,000 people that can provide that personal, warm welcome that keeps our visitors coming back, time and again.

"That welcome is particularly important in these challenging times - especially for our visitors from the EU. And we will continue to promote the interests of Scotland and its tourism industry as we go forward.

"So we are working hard as a Government to support the tourism industry - and we know from the growth in visitor spending - over five billion pounds this year for first time - that we are achieving success.

"This conference will give you that chance to build on that success, to make contacts and to learn from those that are the best in the business - like Carol and Gordon Bulloch of the Five Star Gold B&B The Dulaig in Grantown on Spey - the AA's Guest Accommodation of the Year for Scotland 2016.

"And Carol and Gordon will be the very first members of the new Scottish Bed and Breakfast Association, which I am delighted to launch today.

"The Association will play a vital role in supporting the sector and I very much look forward to working with you all coming months and years to help support and grow the Scottish B&B and guesthouse sector.

"I hope you all enjoy the rest of the conference and I very much look forward to my next stay in one of our excellent B&Bs."